Mosaik Jazznights
Mit den Mosaik Jazznights möchten wir Jazz von hochkarätigen Musikern in einer intimen Atmosphäre bieten. Das 2. Konzert ist als eine Hommage an den kürzlich verstorbenen kanadischen Pianisten Paul Bley gedacht.
2. Konzert: Bob Degen meets Carla and Paul Bley 26.03.2016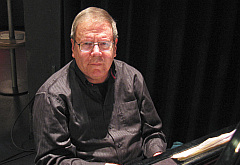 Bob Degen – Piano
Bob Degen wurde in Scranton/Pennsylvania am 24. Januar 1944 als Sohn eines Gitarristen und einer Tänzerin geboren. Im Alter von vier Jahren begann der Klavierunterricht und bereits mit zehn Jahren trat er zusammen mit seinem Vater auf.
1961 ging er nach Boston, um am Berklee College of Music zu studieren. Gleichzeitig nahm er Unterricht bei der legendären Pianistin Margarete Chaloff, die u.a. auch Herbie Hancock und Steve Kuhn ausbildete.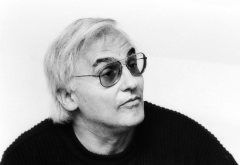 Über Paul Bley
There have been two Canadian giants of jazz piano. One was Oscar Peterson, who adopted the art form of his American neighbours and became a worldwide household name. The other was Montreal-born Paul Bley, who died at his family home on 3 January at the age of 83. Canadian jazz star Paul Bley dies aged 83 Read more Bley's illustrious reputation was more confined to the jazz loop than Peterson's, but if he was less technically ostentatious or inclined toward popular repertoires of Broadway songs and swing grooves, he was a dazzling virtuoso in his own ways. The speed and clarity of his bebop playing in the early 50s quickly made him one of the hottest new jazz kids on the block, but he soon left familiar jazz avenues behind, and passed though many stylistic changes over his long career. Bley was one of the genuine visionaries of jazz. He spotted the intuitive gifts of Ornette Coleman when the Texas saxophonist was a 28-year-old unknown: he collaborated with (and married) two of the most original jazz musicians of his time in Carla Bley and Annette Peacock; he worked with jazz pioneers including Charles Mingus, Sonny Rollins and Albert Ayler; he influenced Keith Jarrett. In the late 60s he became a prominent figure in the first wave of jazz musicians using electronics and Moog synthesisers. Paul Bley: Play Blue review – the blues harried, stretched, disguised Veteran Canadian piano star Paul Bley is still exposing his profound jazz knowledge to unflinching spontaneous examination, says John Fordham Read more Bley also ran a record label, participated in ventures to further the improvisational approaches he was dedicated to, and though in his later years he often returned to the standard song repertoire of his youth, it was to reveal how imaginatively it could be transformed without losing its character and heart. A violinist first, a pianist from the age of eight, and a composition student at New York's Juilliard school, Bley played with Charlie Parker, Sonny Rollins and others in his student years. He led a trio in New York in the early 50s, and moved to Los Angeles in 1957, where his most famous engagement was at the city's Hillcrest Club, with Ornette Coleman on sax. Paul Bley: Complete Remastered Recordings on Black Saint & Soul Note – review This box set of pianist Paul Bley's 1983-1992 recordings contains plenty of proof of his unique talents, writes John Fordham Read more In the 60s he worked with the great composers Charles Mingus and George Russell. He showcased the compositions of his first wife, Carla (formerly Carla Borg), and the hauntingly off-centre songs of his synth-playing second wife, Annette Peacock. He performed with the leading figures of free jazz and improv in the US and Europe in the 70s and evolved as a masterful unaccompanied performer. In his intelligent massaging of jazz structures and originality of tone, he influenced the keyboard methods of Keith Jarrett. Yet Bley also had a captivating sense of irony and mischief, and a wry humour often gleams through even the most lyrically oblique and economical work of his later years. And for my money, nobody has played Ornette Coleman's bluesily jubilant, tone-warping tunes on a piano better than him.
(Paul Bley – a genuine visionary of jazz by John Fordham)